About 3 weeks ago(before the playoffs started), I posted my NHL Playoff predictions.  You can see the full predictions here:
https://moneymaaster.wordpress.com/2019/04/08/nhl-playoff-predictions-go-jets-go/
Guess what happened…..
I managed to get EVERY SINGLE SERIES……….WRONG.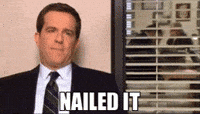 That's right – I'm not sure why,  but i'm somehow impressed with myself.
Since my Jets are out – I'll be rooting for a St.Louis/BlueJackets or St.Louis/Canes final.